When looking for a floor scrubber, scrubber sweeper or scrubber dryer, it can be a nightmare trying to find something that works for you – a machine with the power, reliability and cleaning capability to clean your floors, while still having the long life expectancy and sturdy construction required to deliver results for long enough to maximise the value of your investment.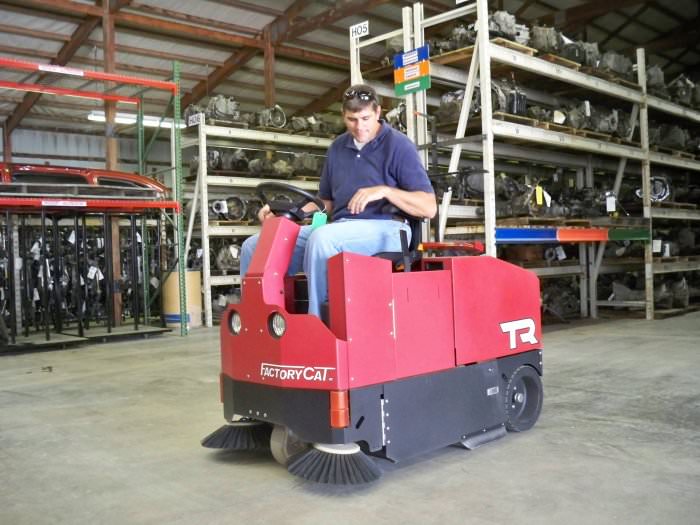 The features that can help set a truly great floor scrubber apart include:
A Toggle & Rocker Switch instead of a Touch Panel
Many modern scrubber manufacturers use a touch control panel (sometimes called a foil) to control the machine. They are ostensibly a good choice for machine management since they integrate all functions of the scrubber into one convenient, easy-to-use panel. However, they are fragile and expensive to replace, since they incorporate everything into one interface. In addition to this, if they do break, the machine is functionally useless.
However, at Factory Cat (and other suitably forward-thinking scrubber-dryer manufacturers), their scrubber dryers and scrubber sweepers are controlled via toggle and rocker switches, which are far more durable and considerably easier to replace.
An Actuator instead of a Foot Pedal
Most walk-behind scrubber driers have a foot pedal which presses the scrubber deck to the ground, and which can lack the force required for an adequate clean. That's why the scrubbers made at Factory Cat have a powerful electronic actuator/ram as standard, driving the scrubber deck down onto the floor with all the pressure needed for a deep clean.
High Quality Scrub Decks
A good scrub deck can make the difference between a flawless, shining clean and a messy, dirty floor. But what sets a great scrub deck apart from a mediocre one? In cylinder decks, excellence means a powerful motor & running gear, with a timing belt which won't slip under high pressure, and longer, tightly packed bristles for a superior clean and longer life.
For a disc deck, it means heavy duty motors, solid steel brush covers and rollers, a selection of interchangeable discs and high bristle density for the best clean possible. All of these features and more can be seen on Factory Cat scrubbers.
Easy Access Tanks
One of the most important things deciding machine usability and ease of maintenance is tank accessibility. If the machine's tank and motors are inaccessible, it will be very difficult to use it properly, and will make the frequent task of refilling cleaning fluid and water into a monumentally difficult and frustrating task. On top of this, routine maintenance will take much longer and may require completely dismantling the machine: a complicated and costly option.
Factory Cat industrial floor cleaning machines are all built with easy-access tanks, to make cleaning, maintenance and routine machine use as easy as possible!
Baghouse Filters instead of Paper Filters
Paper filters are extremely common with pedestrian sweepers and small ride-on sweepers, but they leave a lot to be desired in dusty environments, becoming easily clogged and requiring frequent replacement, driving the cost of running your sweeper up.
Every Factory Cat sweeper comes equipped with a "baghouse" filter, which takes longer to become dirty, is reusable and washable, and usually does not need to be replaced over the entire lifetime of the machine!
With all of these factors in place, it's easy to see what sets Factory Cat scrubbers apart from the competition – durable, easily maintained controls, a powerful actuator, high quality scrub decks, easy access tanks and sturdy baghouse filters make them a standout choice!
For more information or to book a free demonstration, call Factory Cat on 02380617129 today or visit their website!